AC Accredited Diploma in Coaching Supervision Training (ADCST) (Association for Coaching)

ICF CCE accredited – 120 CCE units (across 3 modules)
EMCC accreditation pending.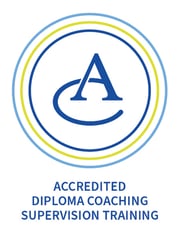 What is Coaching Supervision?
Coaching supervision is becoming a skill that is more recognised and acknowledged within the coaching world. It is a protected space for coaches to explore and consider their work in a non-judgmental, reflective environment. Qualified coaching supervisors are trained in bringing a variety of lenses and perspectives to each coach's situation and stimulating thought provoking conversations, considerations and discussions. The aim of supervision is for the coach to feel supported, resourced and recharged, with new ways of thinking about their work.
Coaching supervision differs from mentoring in that it offers opportunities to explore a coach's work through a variety of different approaches. When mentoring the focus of the work is always through coaching competencies. From an ICF perspective, any coach accredited at PCC level or above can provide mentoring, whereas only supervisors who have undertaken an accredited coaching supervision qualification can offer qualified coaching supervision. Coaching supervision can be either individual or in group sessions, depending on the need of the coach.
Whilst coaching supervision is currently not mandatory for coaches, it is considered best practice. As the coaching world continues to progress and advance, coaching supervision will become more of a prerequisite for coaches who are invested in their work and development.


Why train as a coaching supervisor?
Training as a coaching supervisor adds to your portfolio and enables you to bring all the skills you have learnt and developed as a coach to support other coaches as they grow. Being able to offer coaching supervision alongside a coaching practice demonstrates that you take the coaching profession seriously and that you are committed to both your development and that of your clients. Coaches are often described as being lifelong learners and when you train as a coaching supervisor not only do you learn how to support your supervision clients, but your coaching skills are enhanced by the new knowledge and practical experience that you are acquiring along the way.


Why chose the Optimus Coaching Supervision Diploma?
Our coaching supervision diploma programme runs in the same way that we run our coach training diploma programmes. Our focus is on you getting the support that you need to refine and develop your coaching supervision skills.
This includes:
Peer supervision partners to practice with throughout the course
Practice within the training groups with competency related feedback during each training session
Three individual development sessions for you to reflect with one of the trainers as to how your supervision work is progressing
Three group reflection sessions where you have the opportunity to discuss your work and learning with other students on the course
Workbooks for each module with suggested related reading and reflective questions
Live practical assessment at the end of the course
The opportunity to set up your first supervision groups and work with our trainee or alumni coaches enabling you to build your experience.
There is a focus on you building strong supervision skills so that you are equipped to work with both individuals and groups. We look at coaching supervision through a variety of lenses and the supervision models that we explore include:
Developmental Models of Supervision
The Seven Eyed Model of Supervision
CLEAR
Seven Conversations
Frames of Reference
The Supervision Triangle
Relational Model

As well as a wide variety of supervision models we also investigate:
Psychodynamics in Supervision – with particular reference to Defence
Mechanisms, Transference and Countertransference
Transactional Analysis and Supervision
Nancy Klein's Thinking Environment and Supervision
Positive Psychology and Positive Supervision
Solution Focused Supervision
Neuroscience and Supervision
We will spend time at the end of the course looking at the different accrediting bodies and what further steps you will need to take to become an accredited supervisor.
We have divided the diploma into three sections. These come together to form a complete coaching supervision training.
Our next course is starting in January 2024
Sessions are 10-2pm UK time.
Coaching Supervision Fundamentals
11th January
18th January
25th January
1st February
8th February
15th February
22nd February
29th February

Coaching Supervision Perspectives

7th March
14th March
28th March
18th April
2nd May
16th May
6th June
13th June
20th June
Coaching Supervision in Practice
4th July
11th July
18th July

You need to be coaching regularly so you can bring examples to your practical supervision sessions.
Testimonial
My experience of Optimus Academy has always been a positive one. After completing my coaching Diploma with them in 2021 I knew that I intended to at some point complete a supervision diploma. I have been informally carrying out supervision (for therapists) for the last 15 years or so but wanted a tangible and accredited qualification. The teaching was excellent - nothing less that I expected from Optimus. Julia is extremely experienced as well as well qualified and a really supportive and thought provoking lecturer.
The sessions were interactive and fun and incredibly informative and interesting. The background reading to support the work was highlighted and as with much of Optimus' teachings you were not left wondering or floundering and worrying about what you had to do next as you were supported through the process. Assessments were fair and timely and the cohort were wonderful - an added bonus.
Thank you Optimus for a really enjoyable course and now a shiny new diploma which had furnished me with the tools to add this additional stream to my coaching business. I am now able to help my fellow coaches move forward in their business and as a bi product my coaching has also improved - result!
Phyllis Woodfine
Registered Osteopath, BSc (Hons) Ost, PGCert ACE,
MSc Sports Injury Management, Master NLP Practitioner
Certified Hypnotherapy Practitioner
ICF (ACC) Certified Coach
Secure Your Spot Now!
INVEST IN YOU AND YOUR FUTURE!
With our flexible payment options
Pay in full at £4000 + VAT or 6 x £700 + VAT
Outside the UK? Please email hello@optimuscoachacademy.com to sign up
Coaching Supervision Groups
Coaching Supervision is integral to the development of a coach's skillset. It offers a safe space for reflection and exploration into our work, offering the opportunity to find new perspectives and ways to approach our coaching. Coaching can be a lonely business, especially for the solo business owner coach. Supervision stretches us as coaches, and also provides support. Your supervisor will not tell you what to do. They will enable you to find different ways of looking at your work in a non-judgmental environment.
"Coaching Supervision is a health check for the coach".
Whilst coaching supervision is currently not mandatory it is considered best practice. The difference between coaching supervision and mentoring is that mentoring focuses only the ICF competencies, whereas coaching supervision opens up an exploration of coaching through a variety of different lenses.
Topics that are frequently brought to supervision include:
I feel like something went wrong in the session but I'm not sure what?
How can I tell if the coachee is getting what they need from the work?
My client is wanting me to tell them what to do and I'm not sure how to respond.
I feel like I have a training gap and I'm not sure how to best address this.
I'd like to use a particular model, but I don't know if it is the correct option.



Supervision can be either in a group setting or on an individual basis. The optimal choice is the one that fits you and your circumstances, which can change as your coaching practice and career develop.




Optimus offers several group supervision options. All the supervisors that run the groups are qualified supervisors and have been through rigorous training programmes and assessment procedures to ensure that they are providing the best supervision experience possible. Attendance at these groups would count as being in qualified supervision (essential for some corporate roles and directories).




We run groups every 4 weeks with two different time slots available to suit your needs. We ask that you sign up for a minimum of 6 sessions in the same group as an initial commitment. This is to preserve psychological safety within the groups.




From January 2024 options for group supervision will be:

Monday Group 6.30pm to 8pm :

5th Feb, 18th March, 22nd April, 20th May, 24th June, 22nd July

Wednesday group 10am to midday Weds 10th Jan, 7th Feb, 6th March, 17th April, 15th May, 12th June




Groups are limited to four coaches for 1.5 hour sessions and six coaches for 2 hour sessions.




Coaching supervision hours can be counted towards reaccreditation with the ICF (up a maximum of ten hours).




Fees are £60+VAT per session for a minimum of 6 sessions.




To sign up to one of our supervision groups please click the link below.